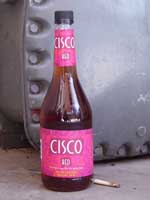 Cisco
18% alc. by vol.

Cisco is bottled by the nation's second largest wine company, Canandaigua Wine Co., in Canandaigua, NY and Naples, NY - the same company as Wild Irish Rose.

Known as "liquid crack," for its reputation for wreaking more mental havoc than the cheapest tequila. Something in this syrupy hooch seems to have a synapse-blasting effect not unlike low-grade cocaine. The label insists that the ingredients are merely "citrus wine & grape wine with artificial flavor & artificial color," but anyone who has tried it knows better. Tales of Cisco-induced semi-psychotic fits are common. Often, people on a Cisco binge end up curled into a fetal ball, shuddering and muttering paranoid rants. Nudity and violence may well be involved too. Everyone who drinks this feels great at first, and claims, "It's not bad at all, I like it." But, you really do not want to mess around with this one, because they all sing a different tune a few minutes later. And by tune, I mean the psychotic ramblings of a raging naked bum.

In 1991, Cisco's tendency to cause a temporary form of inebriated insanity led the Federal Trade Commission to require its bottlers to print a warning on the label (above right). The FTC also forced them to drop their marketing slogan, "Takes You by Surprise," even though it was entirely accurate. Read the FTC's full investigation on their own web page at this link. Since those days, Cisco is harder to find outside the slums, although the FTC's demonizing of the drink only bolstered its reputation for getting people trashed. Anyone who overlooks the warning and confuses this with a casual wine cooler is going to get more than they bargained for. Cisco will make a new man out of you. And he wants some too.

Our research shows that Cisco is actually the second best tasting of the five great bum wines, especially if you're having one of those hankerings for cheap Vodka, Jello and Robitussin. We must also note that Cisco is the best of all 5 bum wines at putting the darkest and puffiest bags under your eyes. The nuclear-tinted color of "Cisco RED" is reminiscent of diesel fuel. Most Cisco flavors are named by the fruit flavor that they are trying to emulate, but the one picture is simply called "RED." This chemical disaster will get your head spinning in no time. A test subject reports, "Strawberry Cisco has a bouquet similar to that of Frankenberry cereal fermented in wine cooler with added sprinkle of brandy for presentation." The sticky, sickingly sweet taste with a hint of antifreeze really comes through in the repellant taste of Cisco. Avaliable in various flavors, 375 mL and 750mL sizes. Down a whole 750 mL and you had better be ready to clear your calendar as you suffer through Cisco's legendary 2 day hangover.

Bumwine.com wrote Chapter 23 of this book: