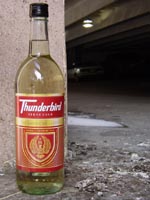 Thunderbird
17.5% alc. by vol.

As pictured to the left, look for the pigeon feces and you'll find this old bird. As soon as you taste this swill, it will be obvious that its makers cut every corner possible in its production to make it cheap. Self-proclaimed as "The American Classic," Thuderbird is Vinted and bottled by E&J Gallo Winery, in in Modesto, CA. Disguised like Night Train, the label says that it is made by "Thunderbird, Ltd." If your taste buds are shot, and you need to get trashed with a quickness, then "T-bird" is the drink for you. Or, if you like to smell your hand after pumping gas, look no further than Thunderbird. As you drink on, the bird soars higher while you sink lower. The undisputed leader of the five in foulness of flavor, we highly discourage driking this ghastly mixture of unknown chemicals unless you really are a bum. A convenience store clerk in Show Low, AZ once told me that only the oldest of stumbling indian drunks from the reservation buy Thunderbird. Avaliable in 750 mL and a devastating 50 oz jug.

The history of Thunderbird is as interesting as the drunken effects the one experiences from the wine. When Prohibition ended, Ernest Gallo and his brothers Julio and Joe wanted to corner the young wine market. Earnest wanted the company to become "the Campbell Soup company of the wine industry" so he started selling Thunderbird in the ghettos around the country. Their radio adds featured a song that sang, "What's the word? / Thunderbird / How's it sold? / Good and cold / What's the jive? / Bird's alive / What's the price? / Thirty twice." It is said that Ernest once drove through a tough, inner city neighborhood and pulled over when he saw a bum. When Gallo rolled down his window and called out, "What's the word?" the immediate answer from the bum was, "Thunderbird."

WARNING: This light yellow liquid turns your lips and mouth black! A mysterious chemical reaction similar to disappearing-reappearing ink makes you look like you've been chewing on hearty clumps of charcoal.

Bumwine.com wrote Chapter 23 of this book: